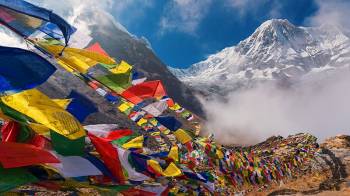 Early in the morning drive to Sarangkot for sunrise tour. Sarangkot is the one of the best pace in Nepal where you can see sunrise and panoramic mountain views. After sunrise tour drive back to hotel and take Breakfast then proceed to Pokhara city sightseeing places to visit like:
Bindabashini Temple: Bindabashini is also one of the most popular temple in Pokhara. The temple is dedicated to goddess Bhagwati, another manifestation of Shakti. Bindabashini is the mother goddess who fulfills the wishes of her devotees.
Barahi Temple: The Barahi temple is the most important monument in Pokhara. Built almost in the center of Phewa Lake, this two-storyed pagoda is dedicated to the boar manifestation of' Ajima, the protesters deity representing- the female force Shakti. Devotees can be seen, especially on Saturdays, carrying male animals and fowl across the lake to be sacrificed to the deity
Fewa Lake: 1 hrs. Boating on fewa lake.
Devi's Fall: Locally known as the Patale Chhango (Hell's Fall). Devi's Fall (also known as Devin's and David's) is a lovely waterfall lying about two km south-west of the Pokhara airport on the Siddhartha Highway. Legend has it that a trekker (Devin, David.) was washed away by the Pardi Khola and mysteriously disappeared down into an underground passage beneath the fall.
Gupteswar Cave: Another cave famous for it's religious importance located in the southern end of the city, Chorepatan. This cave is a sacred and natural cave; there is temple of Load Shiva. In evening leisure, overnight stay at Hotel. In evening leisure, overnight stay at Hotel.
International mountain museum: More than seventy thousand domestic and international tourists visit International Mountain Museum (IMM) every year. IMM records, documents and exhibits the past and present developments related to mountain and mountaineering around the world. The museum contains three main exhibition halls: Hall of Great Himalayas, Hall of Fame and Hall of World Mountains. Inside the museum, there are exhibits on famous peaks, descriptions of famous mountaineers, the culture and lifestyle of mountain people, flora and fauna including geology, in an attempt to represent the traditional culture and values of the Nepalese people.