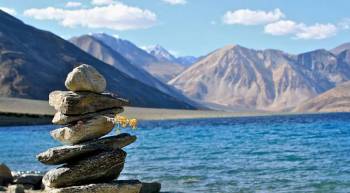 You will leave from Leh early in the morning to proceed towards Nubra Valley via the World Highest Motorable road (5602 Mts) Khardungla pass. As you arrive at the Nubra Valley proceed for a visit to the White Sand Dunes at Hunder. You can enjoy the camel ride at your expense and later if time permits visit Hunder and Diskit monasteries and check in at Deluxe Camp. Spend the evening at leisure and experience a comfortable overnight stay at the camp.
About Khardung La Pass:
The road journey to Nubra valley leads through Khardung La pass (The highest Motorable road in the world) 18,390 ft. around 39 Kms. Away from Leh. There are two checkpoints on the both sides of the pass. Khardung is the first village of Nubra valley at higher altitude than Deskit and other villages.
About Deskit Village:
Deskit is the main village of headquarter of Nubra valley, which has a small market consisting of a row of shops and about 500 years old Gompa on the hilltop. Spectacular view of the valley can be seen from the monastery.
About Diskit Gompa:
Deskit Gompa was founded by Lama Sherab Zangpo of Stod in about 1420 AD during the reign of King Dragspa. About 100 monks are residing in the Gompa, which is a branch of Thiksey Monastery. The monastic festival called Gustor takes place on 20th and 21st days of the 12th month of Tibetan calendar.
About Hunder Village:
Hunder is a beautiful village to stay with lot of trees and you will really enjoy your stay at Hundar. It has a small monastery and ruined fort above the village. The walk or Camel Safari (Double Hump bactarian camels) from Hundar to Deskit, through sand dunes for two hours is wonderful experience. Later in the day enjoy an overnight stay in Nubra valley.